Victory Training and Consulting
Our Team of Experts is here to create phenomenal success for you. Whether it is corporate training or personal growth and development, we bring a variety of skills that cover everything from A-Z about personal and organizational growth.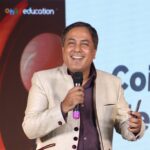 Sunny Nagpal
Chief Smile Officer, aha! Education
Motivational Speaker, HR Professional & Healer
All stakeholders – students, teachers, parents and school leaders deserve an aha! experience. aha! Education is a delightful training partner for schools. Mr. Sunny Nagpal is the Co-founder of this company which has spread its wings in over 11 cities. He has trained teams on genetic
brain profiling in Mumbai, Bangalore, Hyderabad, Delhi, Chennai and Coimbatore. He has served over 1000 families with this tool.
Sunny Nagpal enjoys having the beautiful clue of nature to explore our brain. He has spent 7 golden years under the able leadership of Dr. Kiran Bedi and Ms. Neetu Sharma, where he executed the Early Leadership model for children in the slums, impacting over 15000 families. He considers spiritual nurturing and volunteering in Chinmaya Mission and Value Based Education model as a special gift in his life. Extensive work in Chinmaya Education Cell runs over 100 schools and colleges, touching over 1 lakh students. The Universe presented him with opportunities to learn and contribute. He aims at sharing happiness with everyone and make this planet a beautiful place to live on.

In the lock down times this year, he has made over 200+ videos, given online interviews in different countries like Singapore, Dubai, Pakistan, Bangladesh, Mexico and authored 2 books, "Know Self, Love Self, Celebrate Self." And co-authored "Stop Teaching, Start Transforming"
Rashmi Sandeep
Founder & Chief Life Influencer
Motivational Speaker, HR Professional & Healer
 Rashmi  creates a space and leaves an impact in people's life making them feel highly charged up and motivated to stay focused and achieve their desired goals – Professional and Personal.
Rashmi  is not a Therapist. She does not heal anybody's emotions . She help people stay young and bubbling in positivism.  She always wanted to live life differently and during the Pause phase of her life, she discovered the hidden passion to inspire people, touch their lives and move them to achieve their goals. 
Rashmi is  also a HR Professional with 14yrs of Core HR Experience in Corporate world.  She always wanted to be different and unique in all that she did and spoke. This inner desire to be different from the rest, made her walk through some unexpected roads of life and one such road directed her to the "Road of Spirituality and Healing" .

Healing the self is a choice one has to make. Choice of accepting the life situation as it is and learning to respond appropriately. She made a choice to heal herself that empowered her to take on the possibilities. 
As a Healer Rashmi  want to help create a world where it is safe for us to love each other & accept each
other without any judgment, criticism, or prejudice.

She inspires the needy to follow simple methods  that not just help people with quick wins but transform them into a powerful version of themselves with minimum efforts and firm commitment.